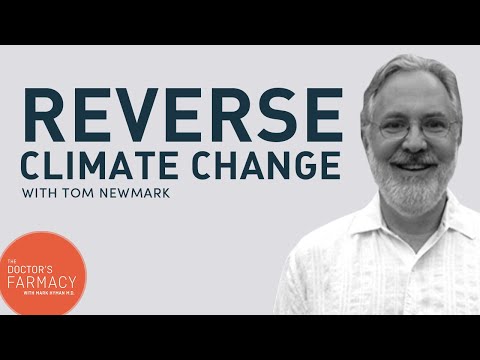 Soil is the most important answer to climate change, and also one of the most underappreciated.
Without soil, we have no food, and I don't think I need to elaborate on how catastrophic that would be. The positive news is that we can work on our soil integrity right now to preserve it for many future generations to come—you might be surprised that using regeneratively raised cattle is part of that solution. There is still hope for our children and grandchildren to inherit a balanced and beautiful planet with abundant food production.
Because we rely on soil for food production, big companies are starting to pay attention to the work that needs to be done to preserve it. My guest on this week's episode of The Doctor's Farmacy, Tom Newmark, is helping them understand what they can do and how to get involved in saving our soils.
Tom was CEO of the dietary supplement brand New Chapter, which was acquired by Proctor & Gamble about seven years ago. Since that time Tom has focused on environmental activism with specific attention on regenerative agriculture. He is the co-owner of Finca Luna Nueva Lodge, an organic and biodynamic farm and ecolodge in the mountainous rainforest of Costa Rica that teaches regenerative agriculture. Tom is the co-founder and board chair of The Carbon Underground, co-founder of the Soil Carbon Initiative, and a founding member of the Regenerative Agriculture Initiative of California State University – Chico.
This episode of The Doctor's Farmacy is brought to you by ButcherBox. Now through September 29, 2019, new subscribers to ButcherBox will receive ground beef for life. When you sign up today, ButcherBox will send you 2 lbs of 100% pasture-raised grass-fed, grass finished beef free in every box for the life of your subscription. Plus listeners will get an additional $20 off their first box. All you have to do is head over to ButcherBox.com/farmacy.
Here are more of the details from this episode (video / audio): 
How we've affected the Earth's various systems to release carbon in the environment (4:25 / 10:35)

How much soil has been lost and how much soil do we have left worldwide? (10:44 / 16:54)

How plants create soil (18:39 / 24:49)

What happens when we pour synthetic fertility into soil (24:17 / 30:28)

How regenerative farming can bring carbon down back into the soil (35:10 / 41:20)

Do we need to adopt a vegan or plant-based diet to save the planet? (43:55 / 50:05)

The time it takes to grow a centimeter of topsoil (52:19 / 58:29)

Why supporting regenerative agriculture is in the economic interest of big industry (56:20 / 1:02:30)

What the average person can do support regenerative agriculture (1:03:35 / 1:09:45)

Our aging farmer population and the role of farmers in the climate movement (1:11:32 / 1:17:42)

Learn more about The Carbon Underground's Adopt-a-Meter program by visiting https://www.adopt-a-meter.org/.
Learn more about The Carbon Underground at https://thecarbonunderground.org/.
I hope you'll tune in to hear more about a healthier future.
Wishing you health and happiness,
Mark Hyman, MD