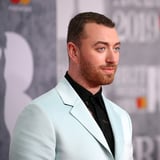 Sam Smith's latest single "How Do You Sleep?" is technically a breakup song, but the upbeat melody has us feeling good. Sam recently released their sleep mix version of "How Do You Sleep?" and we have a feeling we're going to be listening to it on repeat whenever we need to calm down and relax.

If you find it hard to relax and decompress before bed, or in general, Sam's sleep mix may help ease your mind with the slow, instrumental beat. If you're up for the challenge, try practicing a breathing technique as you vibe out to the mix.

Check out the full video above, and get ready to feel relaxed and rejuvenated.